Are you looking for the best creative business card designs of this month? If yes, then you are in the right place! Here at Tapzo, we have scoured through the internet for amazing business card designs to bring you a selection of our top picks just for March 2023. From traditional cards with bold typography to vibrant multi-coloured creations that will make your clients remember your brand, we've got everything a graphic designer needs to be inspired for their own professional and eye-catching business cards.
Cards listed are in no particular order, this is just our top 20 we found online this month.
1. Five Minutes by Grzegorz Sołowiński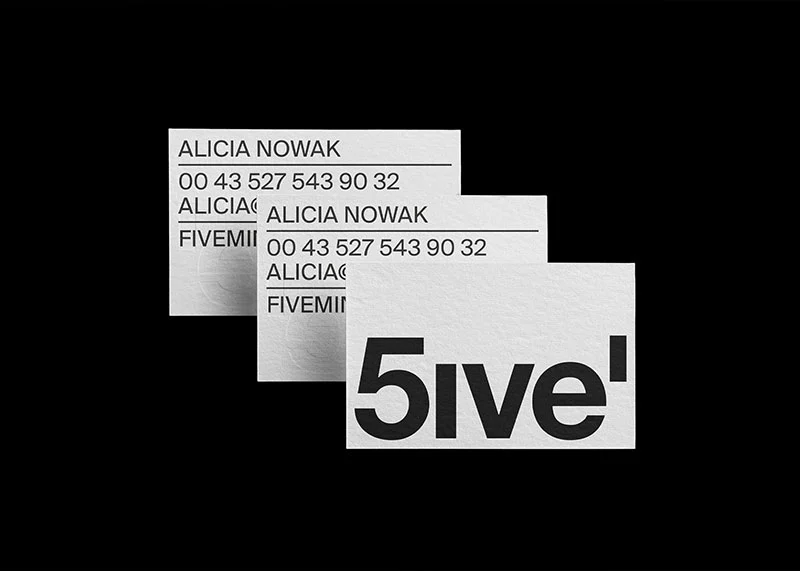 This awesome design by Grzegorz Sołowiński kicks of our list for the best business card designs of the month and what an entry it is. Instant impact with the stark contrast of black and white. The beautiful textures throughout the design set a strong bold tone perfectly. Information displayed in a clear, concise way, the perfect way to cut through the noise.
2. Aexers Lin by Chun-Ta Chu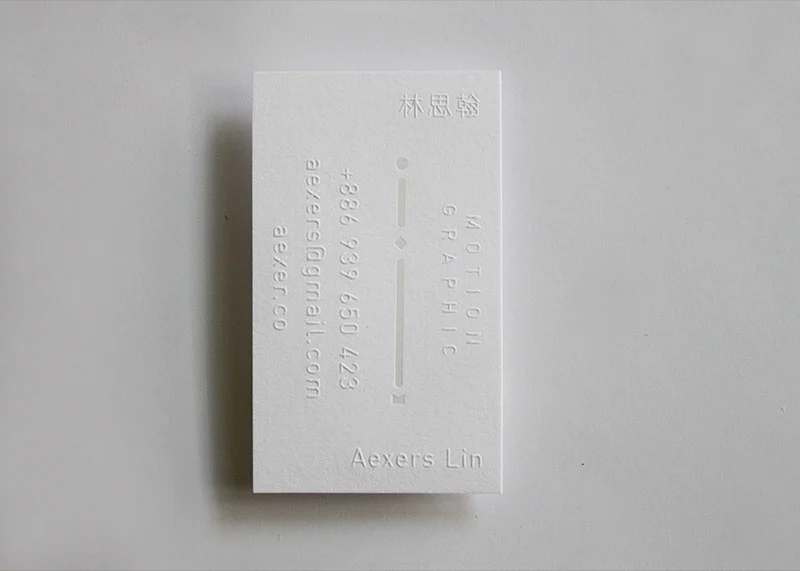 This business card design by Chun-Ta Chu is a stunning brave entry. This business card is giving Beatles white album vibes, with the brave choice of white on white. The design is super clean, and minimal, whilst taking advantage of de-bossed text to make the design legible and stand out.
3. Agata by Florencia Porreca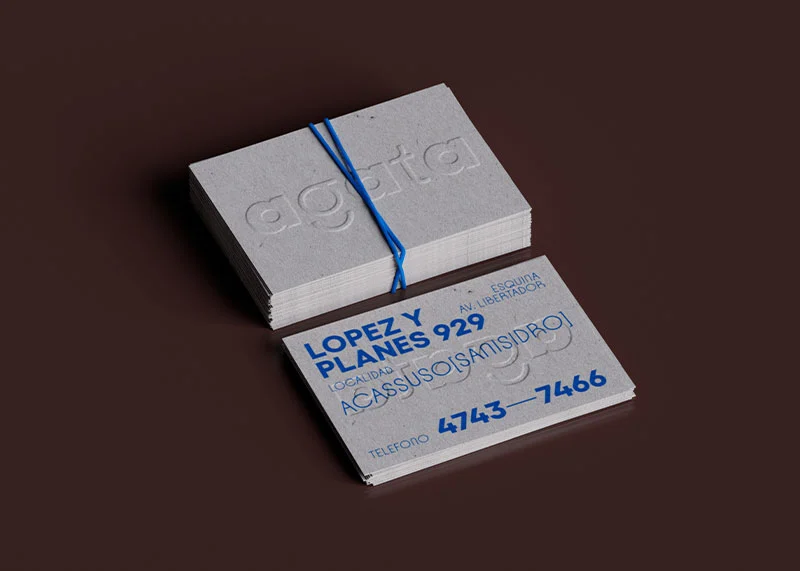 This business card plays with simplicity and a striking stunning color palete to create a winning combo. Florencia Porreca created this design for Agata and we think that they did a great job! The mixture of embossed logo, textured card stock and strong contrasting blue makes this business card stand out.
4. Carpos by PANO DESIGN STUDIO
This business card created by Pano Design Studio, for Carpos, is beautifully designed. The spacing and minimal approach to the design is a hit! No distractions, just color, spacing and exceptional embossed typography. We love the contrast between both sides and feel confident that if you handed this card out, it would get noticed.
5. Clara L by Alexandre Pietra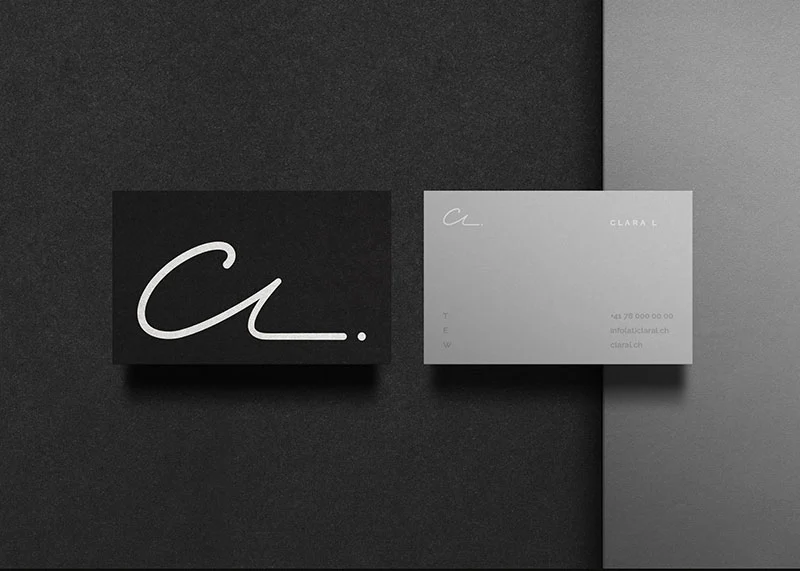 Whats not to love with this business card design by Alexandre Pietra. The simplicity of the front having just the logo spaced perfectly, creates instant impact. With a contrasting other side that continues the super minimal look.
6. Flowing Design by Flowing Design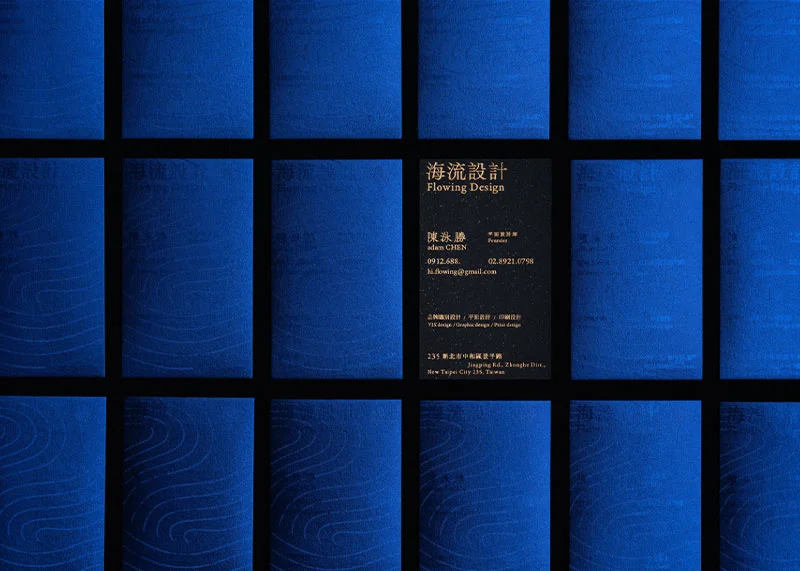 Every now and then you come across a design truly so beautiful that it stops you in your tracks. This business card by Flowing Design for themselves does exactly that! Photos don't do this card justice. The gorgeous textures and combinations of colours, all balance perfectly in harmony with each other, making this business card, truly one of the best out there.
7. Hal2 by George & Harrison
We love the color choices by George & Harrison on this business card design they created for Hal2. The textured print mixed with the bold logo graphics create a sense of joy and draw you into wanting to find out more. A great example of a strong excellent business card.
8. Tastea by Christine Jane Designs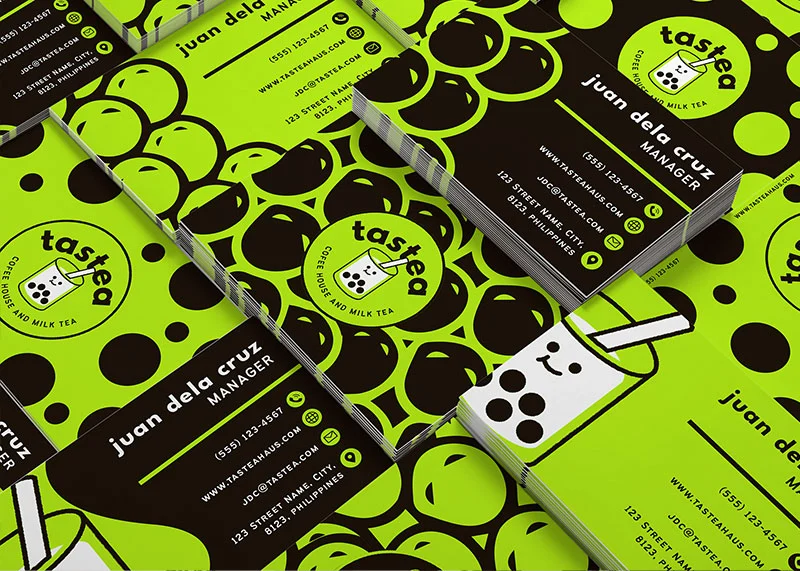 This business card by Christine Jane Designs, is a great example of a design that brings joy. You can't help but smile when looking at this card. The playful colour scheme and logo work perfectly to make this business card have impact.
9. Format Batard by Format Batard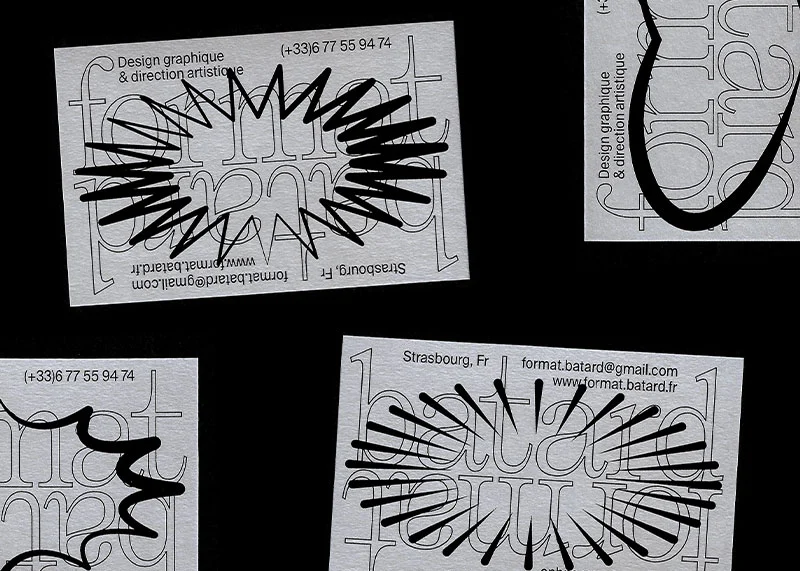 This design by Format Batard is an excellent example of a brilliant business card design. A simple black and white colour scheme to create stark contrast, combined with the playful scribble graphics and strong typography choice, all work together to create a truly stunning business card design.
10. Hello by HiddenTalent.pk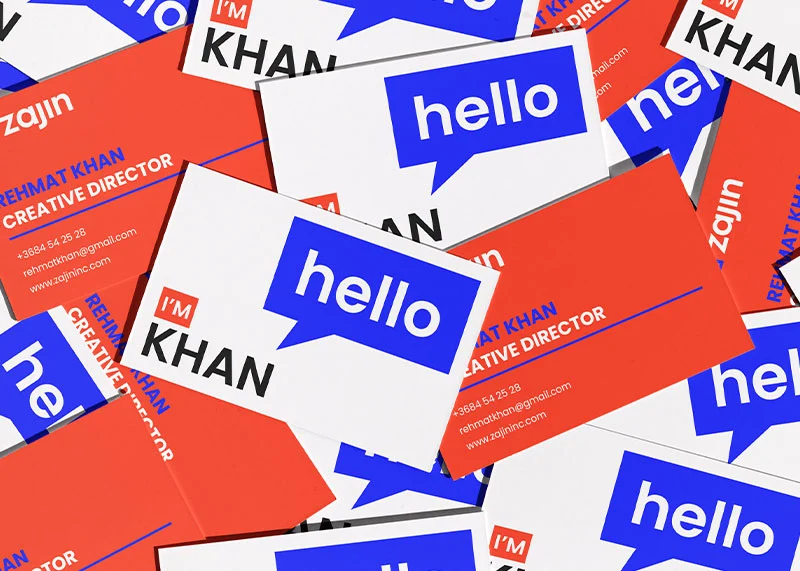 HiddenTalent designed this awesome business card and we got to say; we love it! The colour scheme creates a really strong contrast, that allows the card to be seen from a distance. All whilst making the business card design fun, which can be difficult to do.
Hello, hi.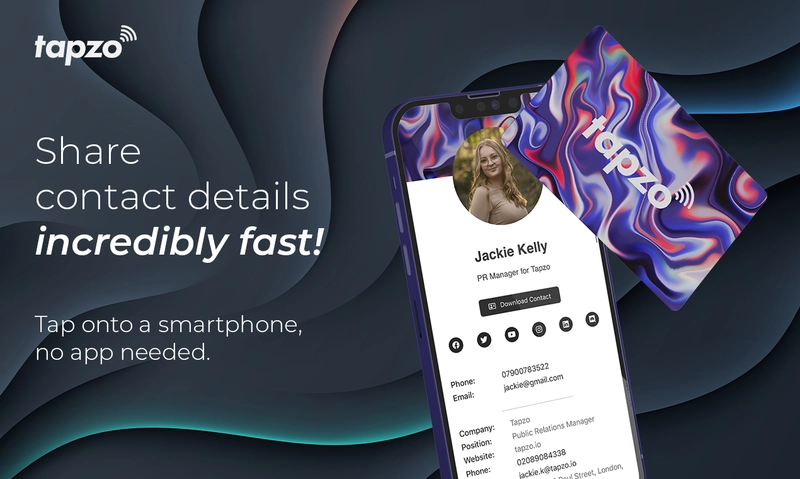 So we're halfway of the best business cards of February 2023 that we found online. We just wanted to quickly thank you for making this far into the article, but also quickly tell you about ourselves; Tapzo.
We create awesome smart sustainable business cards that are a great modern alternative to regular business cards. Share your contact details, social links and more by just tapping our smart business card onto a smartphone. With your contact details being able to be downloaded directly to that smartphone's contacts, so they don't ever loose your details!
You can track how many people have interacted with your contact profile and more importantly see how many people have downloaded your contact details onto their phone.
Gone are the days of needing to re-print when details change, or you run out of cards. Whats more is that all business cards end up in the bin eventually. That's 8 billion business cards thrown away each year. That's a lot of waste! Our cards last a lifetime and only require you to have one card so are a great sustainable alternative as they have a much smaller footprint.
If you're interested and want to join the future of business cards, check us out. You won't be disappointed.
Yeah, yeah we know… back to the list!
11. Peverh Restobar by Yuliya Stasyuk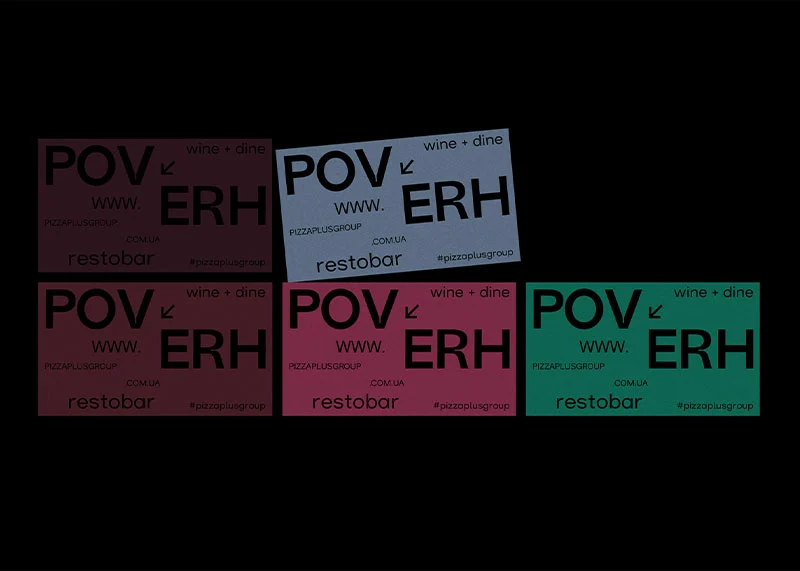 Yuliya Stasyuk created this design and we think that they created an excellent business card. We love the colour scheme, choice of typeface and the placement and spacing of type. This is a strong design that stands out for being different in all the right ways.
12. Hi by HiddenTalent.pk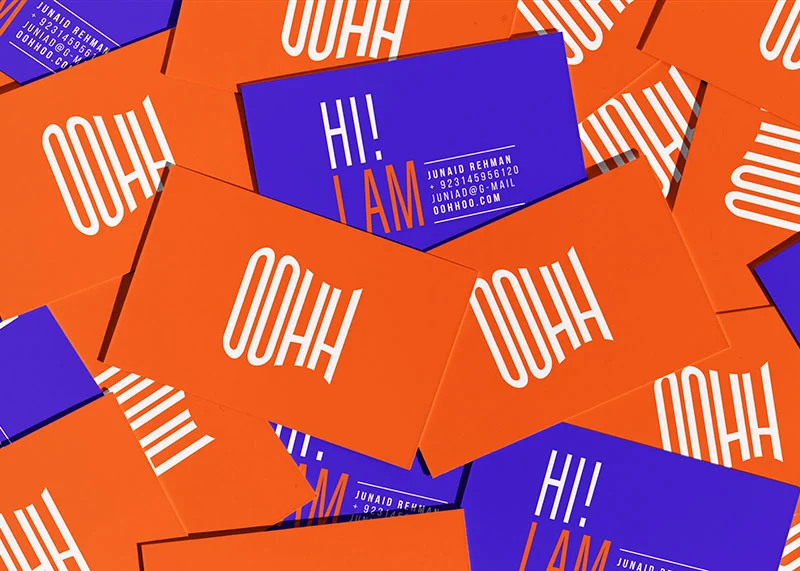 Another entry this month by HiddenTalent, and once again another wonderful colour scheme that pops and helps the card stand out. The info on the card is pretty minimal and has great placement/spacing that helps the business have a minimal modern feel.
13. Kalma Studio by Veronika Creates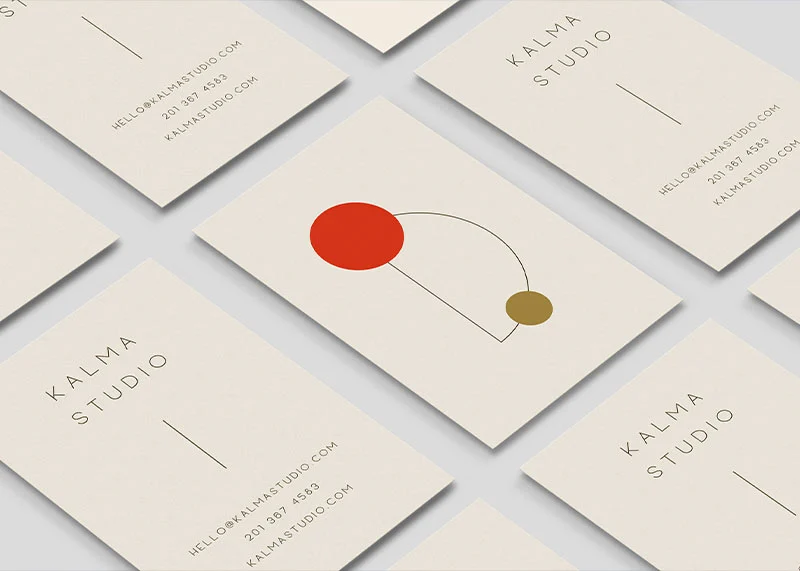 We love the complimentary color scheme used by Veronika Creates, for this design mixed with a strong logo and minimal typography. We appreciate the layout and spacing of all the elements on this card combined with the thin minimal typography, make this card stand out nicely without feeling like the card is shouting at you.
14. Shen Cafe by Yi-Chin Lai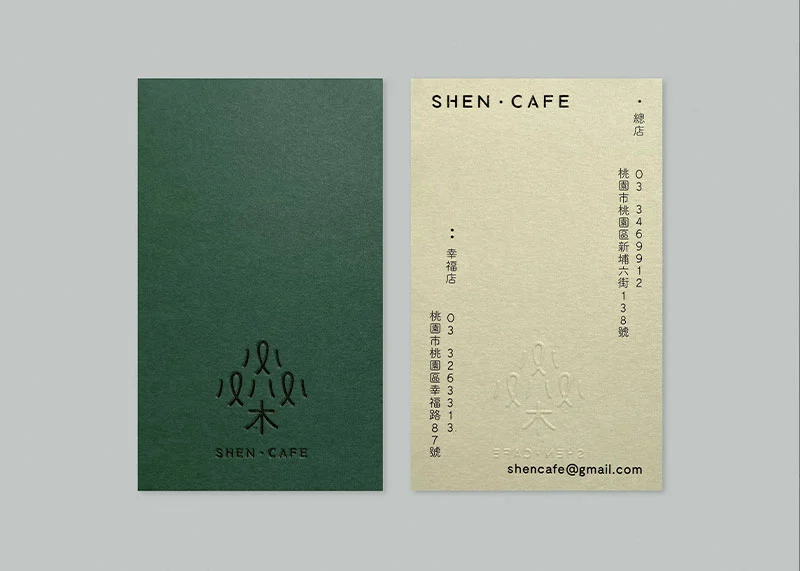 This business card by Yi-Chin-Lai is an excellent example of tone of design. The textured card stock, with the embossed logo, and brilliant use of negative space, compliments each other perfectly and sets the perfect tone for a business card to stand out for all the right reasons. The colour choices perfectly further compliment the design further. Overall a brilliant business card design.
15. Bureau Glyzerin by Bureau Glyzerin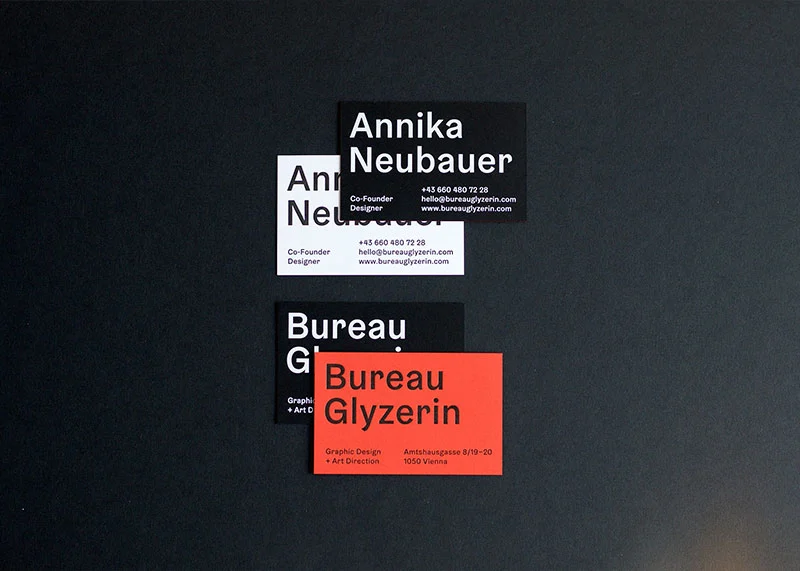 Business cards are supposed to stand out from the crowd and cut through the noise. It's safe to say that this design by Bureau Glyzerin does exactly that. The typeface is brilliant and bold, that works very well with the overall minimal design style.
16. Ronnie Alley Design by Ronnie Alley Design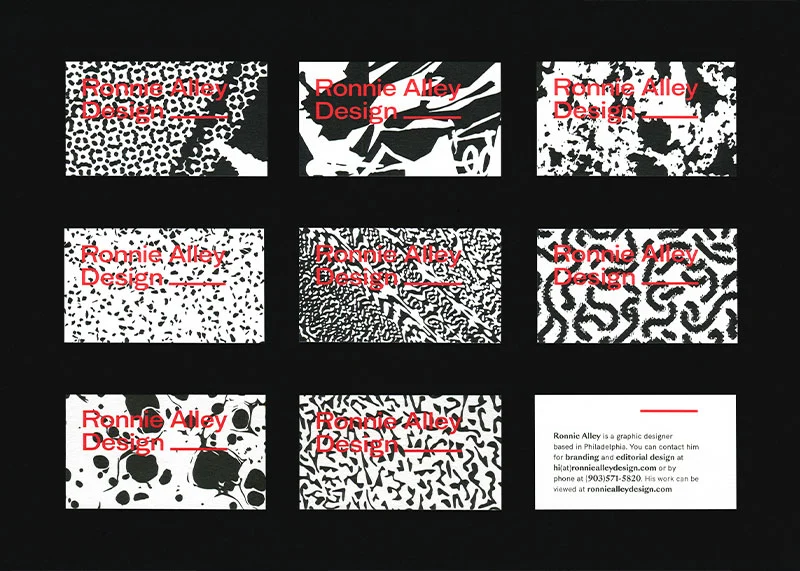 The texture created by the fun illustration pattern by Ronnie Alley Design for this self designed business is an excellent way for card design to stand out. The smart choice of red as a contrasting colour works perfectly with the black and white colour scheme running throughout the card. We also love the side with all the contact details. We've never seen someone present contact info on a business card in story form.
17. Optimas by Sadia Lucky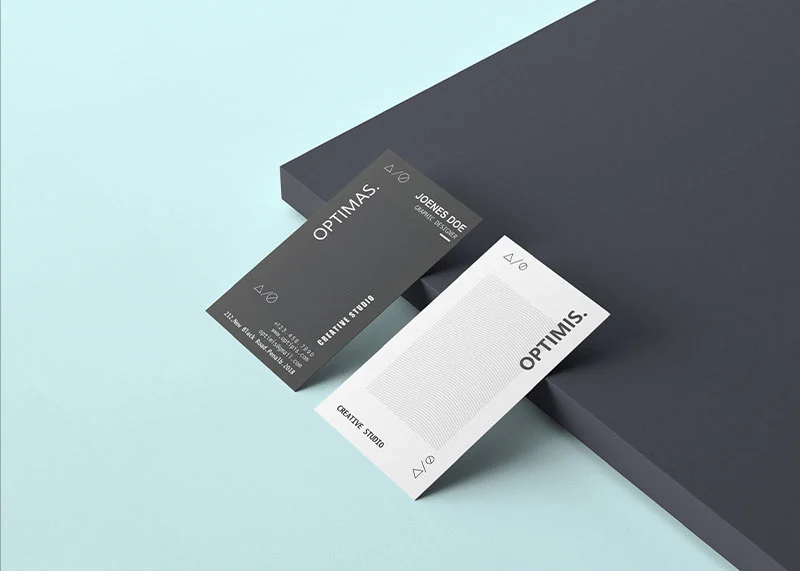 Sadia Lucky created this vertical business card design for Optimis and at Tapzo we're a sucker for vertical business cards. Why? Because they're not the norm! This simple minimal design works perfectly by not overwhelming the user with info. Instead the spacing makes everything peacefully balance eachother.
18. Yahin & Partners by Mountteam Design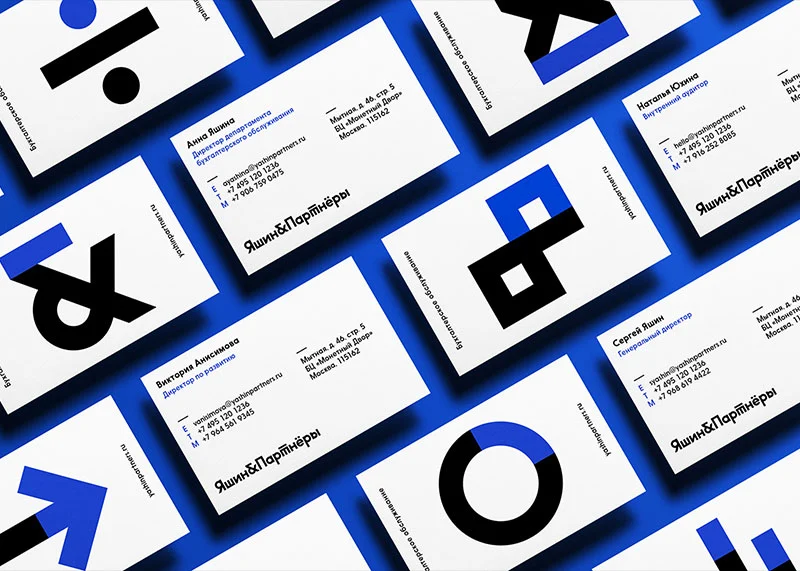 We love the fun playfulness of this business card design by Mountteam Design that they created for Yahin & Partners. The choice to go minimal and let the typography and colours do the talking was a great choice. Overall this design stands out and is a great business card.
19. ATS by Melinda Livsey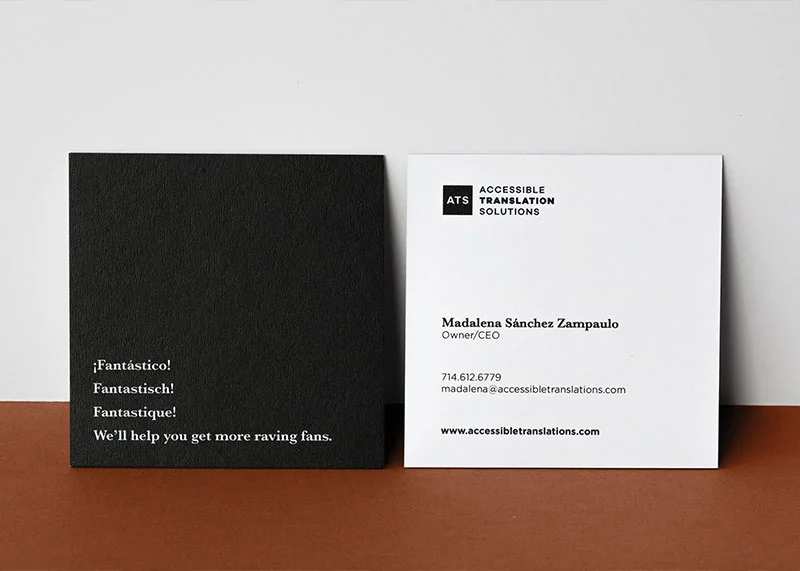 We love the choice by Melinda Livsey to go with a square business card. The simplicity of the card design is carried by the textured card stock and the spacing with the typography. This business card may seem simple at first, but all the simple elements have been done perfectly to make an overall strong business card design.
20. RKM 740 by Paperlux Studio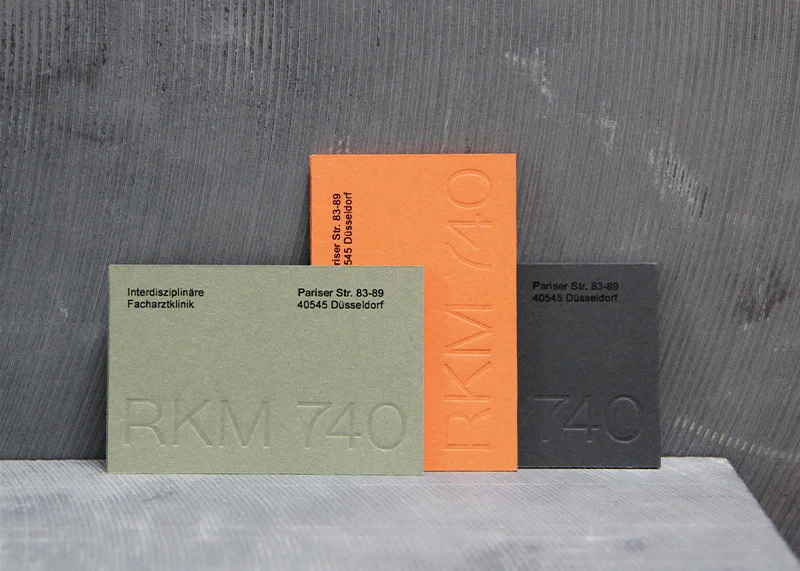 We love this business card design by Paperlux Studio. The choice of coloured card stock adds a playful element and the embossed logo creates a bold impact whilst adding wonderful texture. The super minimal contact info, further focuses your attention onto the embossed logo. This business card would grab your attention and is an excellent last entry to this months list.